Today we sit down for a Q & A with the co-owner of Essential Derma. Catherine Wilson is the lady behind the brand and resident skincare enthusiast. Let's get into her story and how using the Buy Me – Buy Button app has helped grow her business.
What motivated you to start the business?
I've always been the type of person just to work a 'normal' job, but one day I just thought to myself, "Let's go for it", and I started researching different business models that sounded amazing.
My first couple of business ventures had mixed results, but I eventually settled on a business I am very passionate about, and that's skincare with Essential Derma.
What's your business about, who are your customers, and what makes you different from others?
My business focuses on skincare, specifically micro-needling products and other beauty devices. I find beauty devices super interesting and love helping people get great skin results.
What sets Essential Derma apart is that we genuinely care about our customers.
Customers range from 18-24yr olds with acne scars to 60+-year-olds who want fewer wrinkles. The fun thing with skin is we all have it, so it's a topic of interest for most people.
We love following up with our customers to ensure they're getting results with our products. If their skin isn't progressing, we work with them on changes that will help kick things along again.
Most businesses will sell a product, and then you'll never hear from them again. We do our best to follow up with people as much as possible.
What were your challenges/problems before using MakeProSimp (Buy Me – Buy Button app)?
Our biggest challenge was ensuring our buy button was always visible on the product page. We've done split testing before and know that you need to make it easy for the customer to buy.
Even the simple task of having to scroll back to the top of the page to click "buy" can be enough friction for people to leave the site or procrastinate on it longer. This costs you money and is a significant problem that most e-tailers should focus on.
Why did you choose MakeProSimp (Buy Me – Buy Button app) as your solution?
We instantly fell in love with the button because of its look and the promoted easy ways to customize the colors etc. One thing we didn't expect was how perfectly it was installed on our website with no developer needed.
It always sticks to the top of our product page, even when scrolling, and the button's animation make it stand out. It makes you want to click it – We think it's incredible!
Which MakeProSimp (Buy Me – Buy Button app) features and integrations do you use? Can you describe in detail how you are using them?
We focus on using the Sticky Buy Me Widget. This little widget was the solution we needed to start getting more clicks to the cart and a better overall buying experience.
This widget always sticks to the top of our product page and integrates well with other software we use.
One great thing about it is it integrates with JudgeMe reviews. We use this review system to show reviews on our website.
When combining both apps, we now get a great looking Buy Me button with its review star rating next to it. This helps it to stand out and makes it more clickable!
What are the results after using MakeProSimp (Buy Me – Buy Button app)?
The results of using this app have been excellent. We love that we can log in to the app and see our results.
This helps us to see if the button is working on not. Below are some of our products that get the most clicks because of the Buy Me – Buy Button app.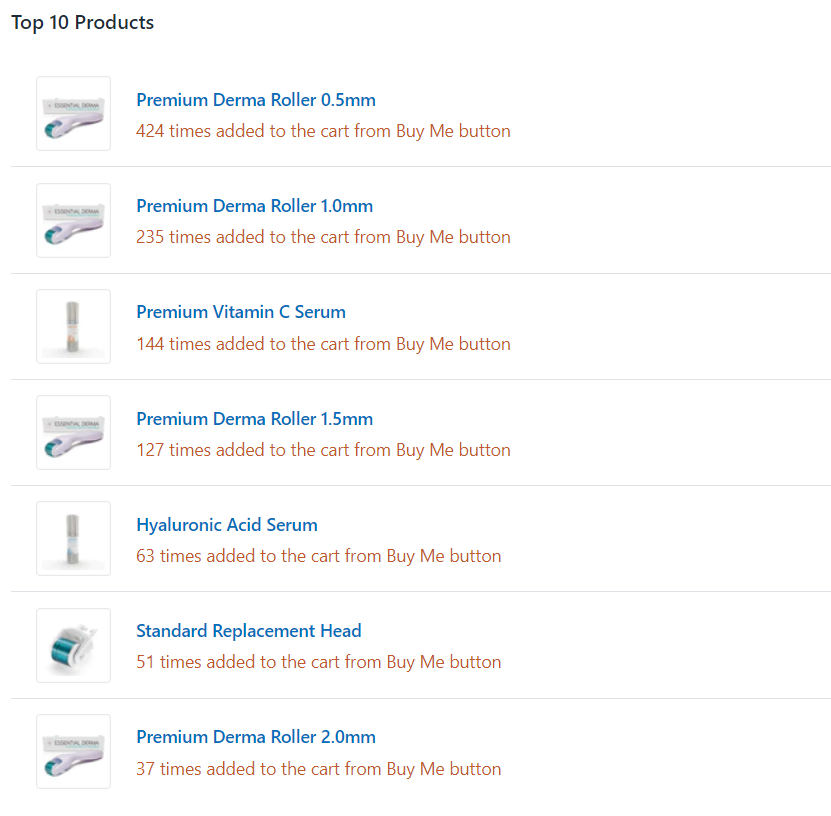 What do you think about the MakeProSimp (Buy Me – Buy Button app) support team?
The support team has been amazing and always responds to us within minutes.
We're used to long email communication with most software companies, but MakeProSimp always seems to be online on their live chat and can solve problems immediately.
We wish other companies will offer the support at this fast speed!
What impressed you the most about MakeProSimp (Buy Me – Buy Button app) in general?
Initially, it was the fact we could just click "Install", and it started working immediately.
Usually, when we install a Shopify app, it breaks the website a little bit. Then requires a developer to fix things.
The Buy Me – Buy Button app just worked for us straight out of the box.
Then as time went on, we were really happy with the analytics. We loved seeing specific statistics on how the app is performing.
Sometimes it's easy to install a shiny new app on your store but then forget to see if it's actually working.
With proper reporting and integrations with Google Analytics, we can see the button working exactly how we wanted it to.
What do you expect more from MakeProSimp (Buy Me – Buy Button app)?
Right now, we're super happy with the Buy Me – Buy Button app.
It's hard for me to think of a way to improve the service, but if I put together a wish list, the one thing I would add to the service is even more in-depth analytics.
As you can probably guess by now, I'm a data nerd and love to see statistics on all aspects of the business.
The Buy Me – Buy Button app has excellent analytics, but I think it can be even better with time.
Overall, I'm thrilled with it; our business will be using it for many years. It will continue to be in our list of top 3 apps we've worked with on Shopify.