The ToatiBar – Sales Popup Shopify app has automatic notifications that encourage a customer to take action. Some sales notifications provide details about an offer or promotion. However, the most powerful notifications display real-time data such as recent customer activity. By making this context visible, notifications create a more emotional response than traditional sales copy. And ultimately, it will motivate visitors to buy the products.
ToastiBar -Sales Popups offers many apps like Sales Notifications, Cart Notifications, Online Visitors Notifications, Recent Visitors Notifications, and Product Visitors Notifications.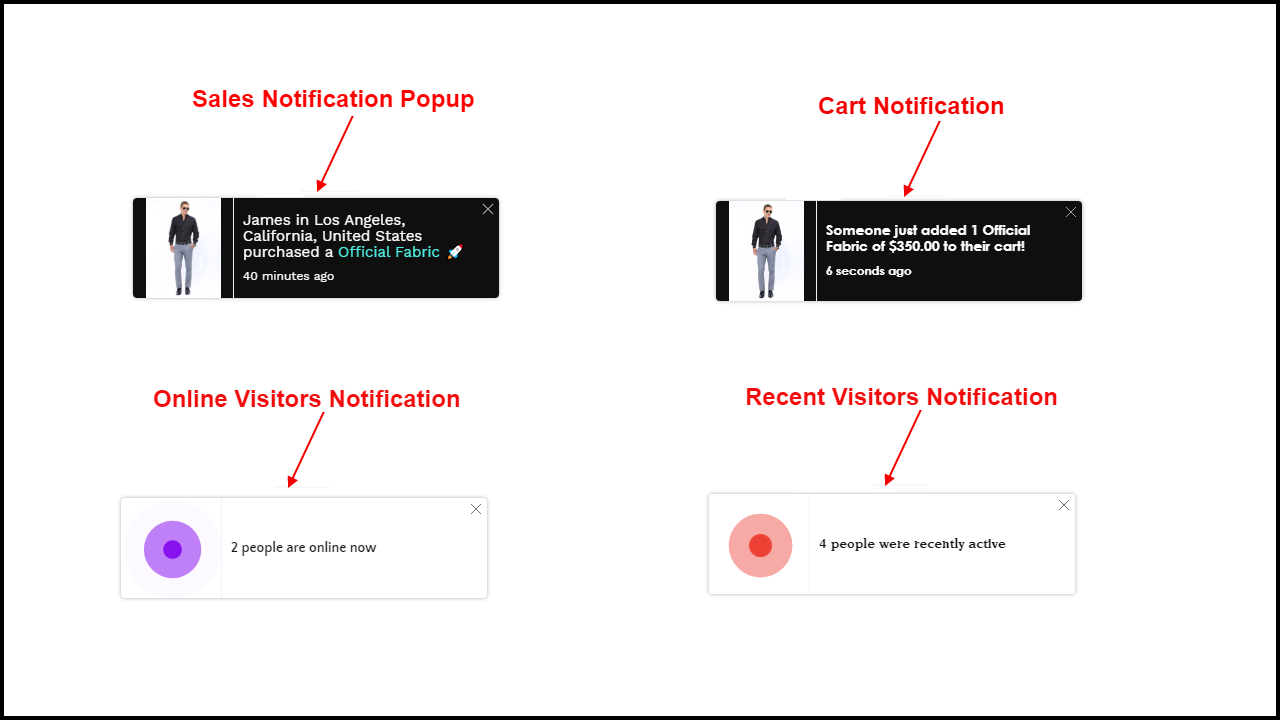 The Sales Notifications app displays a notification (popup) of recent sales when a customer will visit your website. By highlighting how popular your products are, these notifications (popups) show visitors that they can trust your website.
The sales notifications apps provide the extra context that helps us make better choices. When visitors are unsure about a decision, then they will rely on things like customer reviews, popularity, and other clues to make up their minds. Sales notifications add this kind of clue to the website so that visitors/customers are more comfortable making to buy things. And ultimately, it will motivate visitors to buy the products.
Social Notifications apps are the effect that group consensus and popularity have on our decisions to buy things. Seeing that other people have made certain activities like purchases, add to cart, etc helps visitors/customers for worth buying. It also inspires visitors/customers to trust the business or store that sells it. It's not impossible with the skills, empathy, and a plan you'll be able to find the prospects who need the products you have to offer.
The following techniques will help to motivate visitors to buy the products using the ToastiBar – Sales Popup Shopify app.
1) Create a Sense of Trust in Customers
Visitors will believe confirmation from third sources that aren't biased. And that's why, before making a buy, 92% of customers read reviews. Product reviews are 60% more trustworthy than manufacturer or store owner sales copies.
Adding recent sales popups to your site allows you to display verifiable site activity on any page without having to wait for customers to find product reviews. So, using ToastiBar's Sales Notification app popup help to create a sense of trust between visitors and store owners. And ultimately, it will motivate visitors to buy the products.
The Sales Notification app is a massive influence in converting potential leads into customers. It is such a powerful tool to convince visitors to buy your product because it showcases the details of real buyers.
2) Assist Visitors in Making Decisions
Visitors can make better judgments after seeing a recent sales popup because they don't have to go to a specific page on your site to see what others are purchasing.
A live sales notification can precisely help a consumer who needs to decide if they're stuck on a product page and trying to decide whether to buy one product or another.
Instill a sense of urgency in your audience. The ToastiBar – Sales Popup Shopify app can also be used to encourage sales and other activities by displaying recent sales popups. Seeing a lot of activity for a product they're interested in could be enough to convince &motivate the visitors to buy the products before it's too late!
3) Drive Traffic to Your Website
Recent sales popups have the potential to enhance conversions. The social proof software we'll be utilizing in this article can help you increase site conversions by up to 15% approx!
This is achievable because you can draw visitors' attention to the things you want them to buy or the actions you want them to perform. A visitor comes to your website through social media or marketing efforts. Although the appealing taglines or graphics may have enticed him to the website, wise visitors/customers will not purchase on the spur of the moment.
However, with the recent sales popups, a company can demonstrate the brand's appeal and how much consumers love its products! Gain their trust by demonstrating your dependability and security through previous customers' experiences.
It's simple to promote your best-selling products. The days of sending a newsletter with a list of your hot products and a request for the subscriber to visit your site are long gone. Instead, inform everyone about your best-selling items. Use the most recent sales notification popups to inform what's hot on your website! There will be no more inconvenient emails that wind up in the trash!
Make an effort to guide the customer in making a decision. A potential customer is stuck on a product page, unsure whether or not to purchase the item. Meanwhile, a recent sales popup displays, informing him or her that another user has recently purchased that item. This popup will help them move from being perplexed to making a decision. They will be motivated to buy it for themselves as well. With a recent sales notification, consumers at the bottom of the sales funnel can be converted into paying clients!
4) Increase Conversions
Recent sales notifications, add-to-cart notifications, online visitors notifications, recent visitors notifications, and product visitors notifications are the best tools that can be used to motivate visitors to buy the products from the website and convert them into customers of the website.
All these notifications will act as social proof and help to build the trust of the customers towards the brand and the products. By displaying the same product's popups on a product page, the merchant can help the customer who is not able to make the decision for buying. And by displaying the sales popups for other products, the merchant can promote other products also. And that will ultimately increase conversion and sales and revenue.
5) Improve Your Average Basket Value Through Cross-Selling
Cross-selling and up-selling are proven ways to build revenue by increasing your average basket value.
According to research, 35% of what people purchase on e-commerce sites comes from the platform's product recommendations.
With sales notifications, you can create product recommendations for your website pages and also add them to your basket page.
The Toastibar – Sales Popup Shopify app's awesome features are so much helpful to improve the conversion rate. One of the features is "Display same product on a product page". When you enable it, the app will display the popups of the same product on the product page until the product is added to the cart. Once the product is added to the cart, the app will start to display the pop-ups of other products to promote other products and motivate visitors to buy the products.
Conclusion
ToastiBar – Sales Popup Shopify app has many powerful tools that can help you in increasing your conversion rate, reduce abandoned carts, and increase your average order value. Such tools will surely help to get the trust of visitors/customers and once get their trust of them they will surely visit on-site and ultimately help to boost revenue.